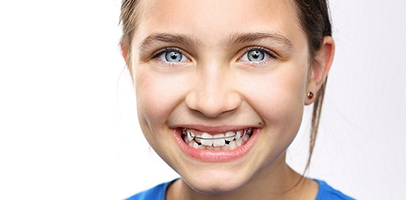 Just like with braces, there are different types of retainers. Choosing the right one depends on your child's orthodontic needs.
Where there are only two main types – removable and permanent – each has its own advantages and disadvantages.
Permanent Retainers
These types of retainers are often referred to as bonded or fixed. Permanent retainers involve a thin wire on the back side of the teeth. They are permanently bonded into place and can last for years.
These are ideal for children who may forget to put their retainer back in after eating for brushing. They also work well in overcrowding cases. However, they do require special oral hygiene habits. Since a wire is still against the teeth, your child needs to pay extra attention and take their time when flossing.
While many children might not want them, permanent retainers are sometimes a necessity.
Removable Retainers
These come into two main types of retainers. The first type, Hawley, involves wires and an acrylic body. The wires and clasps are embedded in this body. The body fits either under the tongue or in the roof of your child's mouth. The wire then fits along the front of the teeth.
Since these types of retainers are customisable and adjustable, they're a popular choice. This is especially true if your child needs further refinements after their braces come off.
The second type, invisible retainers, are popular due to their nearly invisible look. These work like Invisalign and other invisible aligner options. Instead of wires, your child wears a plastic retainer tray that fits on their teeth. However, some children have found them to feel bulky, especially after wearing braces.
The first type is much more durable. However, both options have one major disadvantage – they're easily lost. Since these types of retainers are removable, they're often thrown in the trash or left behind. Replacement retainers cost extra, making your child's orthodontic care more expensive than it needs to be.
The best way to know for sure which type is best for your child is to schedule a consultation today. We're always happy to answer any questions you might have.