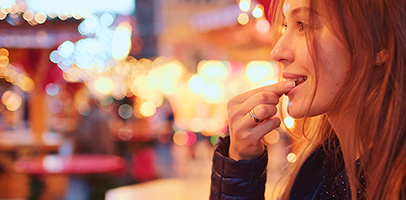 Christmas and New Year are just around the corner, and what better time for the team at Evolution Orthodontics in Blacktown and Dubbo to wish you a joyous holiday season!
After a busy year perfecting smiles, Dr Andrew McNaught, Dr Julia Dando and all the staff at our two orthodontic clinics are looking forward to time spent with loved ones, joining in on holiday festivities and welcoming the New Year.
While our orthodontists, hygienists, treatment coordinators and clinical staff are relaxing and rejuvenating, it's important to stay on top of your orthodontic treatment. Follow our top tips for the holidays to ensure your braces or Invisalign treatment stays on track:
Orthodontic Care Tips for the Holidays
One of the top benefits of Invisalign is that the aligners are removable for up to 2 hours per day. During holiday get-togethers and special events, it's ok to remove your aligners, but don't forget to replace them afterwards.
When you are not wearing your Invisalign aligners, keep them in their protective case. Don't wrap your aligners in serviettes or napkins, or they risk being thrown away.
If you are wearing braces, try to avoid overly sticky foods or biting on hard sweets. Candy canes and toffee can damage or break the wires and cause delays to your treatment.
If you are travelling over the holidays, make sure to take your previous set of Invisalign aligners, along with your current set and your next set. If you misplace your current set, you can save your progress with your previous set, or try to move to your next series. Of course, contact our team if this occurs.
Holiday Hours
Our Orthodontic clinics in Blacktown and Dubbo will be closed for general appointments from the 20th of December. However, our clinical staff are available for emergency treatments on non-public holidays between 10am and 2pm. Our orthodontists will return on the 10th of January.
Happy Holidays from Evolution Orthodontics in Blacktown and Dubbo
From the entire team at Evolution Orthodontics, we wish you a merry Christmas and very happy New Year.
We look forward to seeing you in 2019!