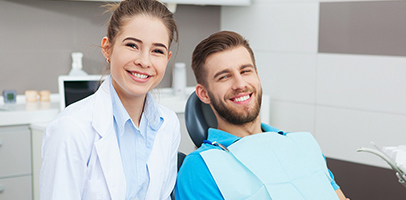 Unlike traditional metal braces, Invisalign aligner trays don't have any brackets or wires that could come loose and cause issues over the duration of your treatment. The moulded, one-piece aligners do not require unplanned visits to the orthodontist for emergency readjustments. All it takes is a quick visit every six weeks just to check that the treatment is progressing. But just how often should you see your general dentist while using Invisalign?
How Often Should you See Your General Dentist While Using Invisalign?
While Invisalign doesn't have the same food-catching properties of the traditional metal braces, it's still important to keep your regular dental appointments. Generally, these are 6 monthly checkups to ensure optimum dental and gum health.
Correcting Your Smile with Invisalign
The Invisalign teeth straightening treatment can be used to gently correct your smile. Once you have established that Invisalign will work for you, and have discussed the benefits of the treatment with your orthodontist, you can begin treatment. Total treatment time can be as short as 6 months.
To ensure that the trays are properly correcting your smile as planned, you will need to make routine visits to the orthodontist to keep up with your progress. Depending on the nature of the treatment, your orthodontist may have suggestions about how often you should visit. On average, adult patients will need to visit just once every six weeks. During the visit to the orthodontist, your expert will ensure that the aligners are working the way they ought to.
Your specialist may also have to provide you with aligners that fit slightly differently throughout the course of the treatment. By making sure you see through your follow up appointments, you can ensure you get the best results for your smile.
The Benefits of Invisalign
Invisalign are superior to metal braces and cut down dentist visits, in that they:
Don't have sharp, hard metal and wires that hurt your mouth.
Are easy to use – the trays can be removed to eat and brush, so you don't have to skip your favourite foods
The materials are nearly completely invisible, which means you can continue smiling with complete confidence
If you think your smile would benefit from Invisalign treatment, book a free consultation with Evolution Orthodontics today.