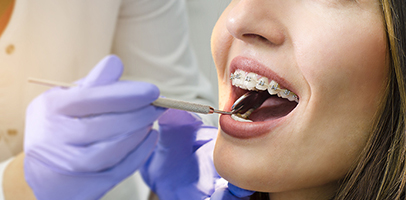 You successfully made it through your childhood and teenage years without wearing braces, but now that you're an adult you find yourself catching your reflection in a mirror and wondering why you never got that smile-changing transformation. If you're thinking about correcting your smile with braces as an adult, it isn't too late. While braces are commonly thought of as a treatment for children or teenagers, they can actually be used for anyone of virtually any age – once most of the adult teeth have emerged.
It Isn't Too Late for Braces as an Adult
Children and teenagers are often treated with braces because their mouths and smiles are still growing and developing at that age. This can sometimes make it easier to address and correct concerns before they get worse. However, that doesn't mean adults can't benefit from the treatment as well. Braces will still work the same way, no matter what age you are, so you can wait until you are well into adulthood to decide you want braces to correct your smile.
Who can Benefit from Braces?
Choosing this treatment with braces can be beneficial for virtually everyone who is unhappy with their smile due to any of the following:
Misalignments
Crooked teeth
Overcrowded teeth
Awkward gaps or spacing
Underbite
Overbite
Crossbite
And more!
No matter who you are, or what you do for a living, you can change your smile with braces. There's no age limit on who can get them, so having braces as an adult is certainly possible. And there's no time like the present!
If you've talked to someone about getting braces but you still aren't sure they're the right treatment for you, then schedule a consultation at Evolution Orthodontics. We'll evaluate your smile and give you a specialist opinion on the treatment that is right for you.