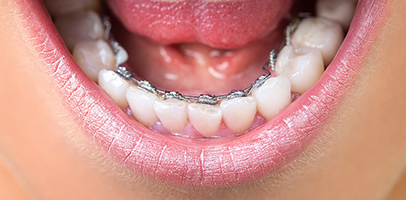 Know what to expect with lingual braces before and after makes it easier when you're already anxious about wearing braces.
The good news is you have a lot to look forward to as you watch your teeth straighten little by little. The best part is no one else needs to know you're even wearing braces.
Getting Fitted For Lingual Braces
The first step in understanding the process of lingual braces before and after is your initial consultation and fitting. Our offices use SureSmile Fusion for lingual braces. This advanced technology goes beyond standard X-rays and uses 3D imaging instead. This gives your orthodontist a better view of all the elements involved in straightening your teeth.
During your consultation, your orthodontist will explain how lingual braces work and ensure you're a good candidate. After doing the 3D imaging, they'll use the images to plot a custom treatment plan. Those plans are sent off and SureSmile robotics tools are used to bend the wires for your teeth. The precision is unmatched and offers a better fit than manual bending.
Wearing Lingual Braces
Your lingual braces fit behind your teeth. Otherwise, they're incredibly similar to traditional metal braces. However, since they sit behind the teeth, they're more slimline to prevent irritation to your tongue. Most patients have to wear them for one to two years.
Now, how do they actually feel? This is probably the most important question you have when it comes to lingual braces before and after. As with any type of braces, there will be an adjustment period. It can take anywhere from a few days to a few weeks to adjust to having braces on the backside of your teeth. Once you do, they're a relatively comfortable option.
You'll need to visit your orthodontist regularly to check the progress. Your schedule will be discussed up front.
Daily Activities
While wearing lingual braces, you'll need to avoid incredibly sticky, hard and crunchy foods. You'll also need to pay careful attention when brushing and flossing, both of which you still need to do every day. Cleaning in between the brackets and wires prevents oral issues, such as plaque buildup and cavities.
Also, you may have difficulty talking at first. As you adjust, this becomes much easier. Playing woodwind instruments may also take some getting used to.
After your treatment is complete, you get to take your braces off and enjoy a shiny new smile.
Lingual Braces Before And After
Contact our office today to schedule a consultation to discuss your transformation with lingual braces.